Colonial Williamsburg with Kids: A Good Place to Go If You Don't Spend Too Much Time There
Every trip we have taken over the past nine years has been influenced by our son. Whether we went to Latvia, Spain, Nicaragua or California, Benjamin has definitely made his voice heard. We often find that when he is happy during our trips, we're happy.  
With that in mind, we asked him if he wanted to share his thoughts on our latest family vacation – to the Historic Triangle in southern Virginia. Here's what he wrot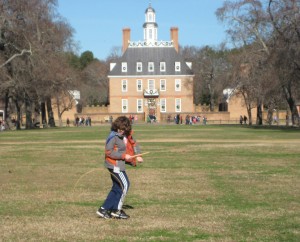 e – straight from the heart:  
Hi, I'm Benjamin and if you saw what I drew when I was 6, I'm 9 now, so I actually have some opinions about the places my parents take me. It might not be as detailed as what my mom and dad write, but at least it's something. Oh, did I mention that I might be writing on Darn Good Digs along with my parents? If I actually write on this website, I promise to tell the truth on everything I write.
A little while ago my parents took me to Colonial Williamsburg in Virginia over winter break, and it is absolutely great! For parents, or adults, at least. To be honest, it is not so great for kids if you spend the whole day there because it's waaaaaay too much history. If you spend a few hours, it's OK.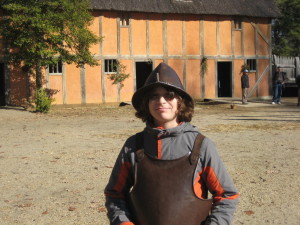 In that few hours I recommend going to the gunsmith, blacksmith and armory. The Palace Green and Powell House are fun too because there were games for kids. If you have time, you could also go to the wigmaker. I liked the wigmaker because the woman performing there is really good at acting.
But there's also loads of other great things you can do in the Williamsburg "AREA." Jamestown and Yorktown I really liked. Jamestown Settlement is great because there is still lots of history, but they make it pretty fun to learn, and they do that by adding huge replicas that you can go into. For example, they have a replica of Jamestown Fort, the three ships the colonists sailed, and a Powhatan village.
Oh,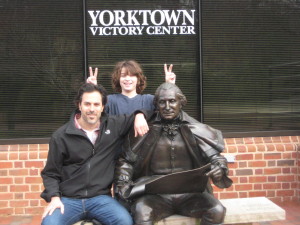 and Yorktown Victory Center is a lot like Jamestown, but it's about Yorktown. It's really cool because they have a performance where they actually fire the cannons, guns and mortars like they did during the Revolutionary War. And they have a medical tent which is really gross because they have all the tools that they used to cut off people's arms and legs to so-called "save" them.
So, in my opinion, the Williamsburg "AREA" is a fun place to go with kids, but adults might like it a lot more.
Write a comment