Bocas del Toro Hotel – Secluded Jungle Lodge and Chocolate Farm
When we first launched Darn Good Digs in 2008, we pressed all of our friends to reveal their favorite secret spots around the world. La Loma Jungle Lodge, a small three-'room' hotel in Panama's beautiful Bocas del Toro region, was on that initial list. The jungle lodge and chocolate farm receive only rave reviews, and we are so excited that we now offer direct bookings for our readers. As our review states, this Bocas del Toro hotel is "the place to just chill out and get back to nature." If that sounds like your thing, then keep reading: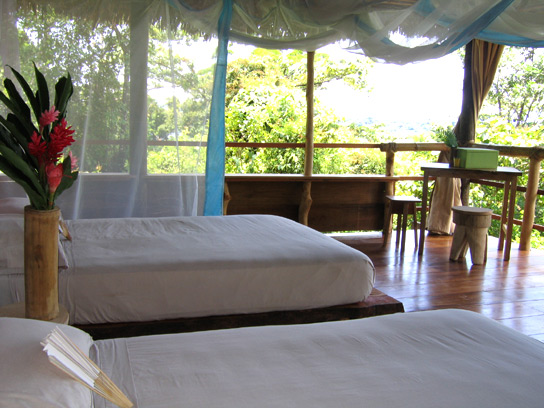 What makes La Loma Jungle Lodge so Darn Good? The total experience!
Location: La Loma Jungle Lodge is located on the quiet and secluded Isla Bastimentos in the beautiful Archipelago de Bocas del Toro off of Panama's northwest coast. Guests at La Loma can tour its working butterfly farm and gardens, hike its rainforest trails, and row traditional wooden cayucos through the mangroves. White sand beaches are just a five minute boat ride away. The lodge provides boat pick up and drop off from Bocas, the island chain's busiest town and transportation hub.
Rooms: Hidden among trees and vines, each of La Loma's three ranchos can be reached by footpath through the jungle from the main lodge. Inspired by traditional Ngobe architecture, the ranchos have been built using sustainably harvested wood and consist mainly of open platforms with roofs. The ranchos all have mosquito nets on their beds, bathrooms with hot water showers, and well-worn hammocks. The real deal is that you are actually sleeping in the jungle with all the amazing nocturnal noises to lull you to sleep.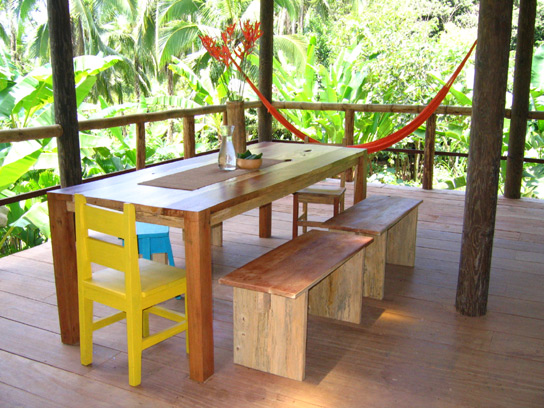 Food: What can we say! A total miracle! Every dining experience is different from the last, and all meals are home-made on site using totally fresh ingredients. We loved sitting outside at the lodge's bench-style table with total strangers who soon became friends, relating travel experiences, and soaking up the wonderful ambiance long into the evening.
Vibe: La Loma is laid-back enough to be horizontal. This is the place to just chill out and get back to nature. Margaret and Henry, your tremendously knowledgeable hosts, know their business well, and filled our minds with information on butterflies, cocoa, and the indigenous Ngobe families that they are helping through their community program, Hooda Chi. Really, this place is one out of the box!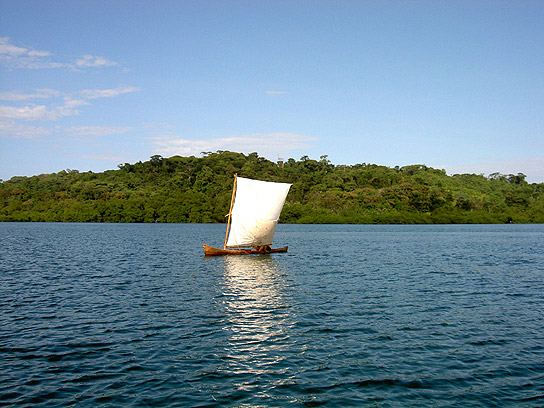 Keep in Mind: The lower rancho has enough electricity to run a small fan and a light, and while the two ranchos further up the hill are not connected to electricity, they do have a natural breeze due to their higher elevation. The climb from the lodge's dining area to the ranchos is a fairly steep 5 to 7 minute climb, and torches and gumboots are provided. It can be a bit hot and sticky here but, hey, you're in the jungle!
Price Range: $100 per person (includes three meals)
# of Rooms: 3
Kid-Friendly: yes
Make an Inquiry/Book a Room at:

As always, if you've stayed at any extraordinary independently owned accommodations for budget-minded travelers, please nominate them today on Darn Good Digs!
Write a comment