Goa Beyond the Beaches: Chill Eco-Cottages at Olaulim Backyards
Last year we blogged about our other Goa guest house, Casa Susegad, recently included on the Lonely Planet Hidden Gems list. Today I'd like to share our newest Goa retreat, the chill and spectacularly beautiful Olaulim Backyards. Yvonne Gray from Cardiff, UK gave us the heads up about this very cool spot.
What makes the Olaulim Backyards so Darn Good? We were collected from the airport and greeted at Olaulim Backyards by Pirkko, Savio, Manuel, and Shameena, as well as the dogs, horse, and donkey. We immediately felt at home and as if we had known everybody for years. The food and drinks are outstanding, the setting is spectacular with beautiful views across the lake and infinity pool, and the wildlife is incredible – a must-see for any twitcher!
Location: Olaulim Backyards has a peaceful location on the banks of the Mandovi River in tiny Olaulim village, just a half hour but a world away from Goa's busy markets, beaches, and nightlife. Sitting by the river early every morning, we saw Brahamani kites, wild peacocks, great hornbills, and kingfishers in all colours and sizes. We also loved our morning walks and bicycle rides around the garden and village, where we were shown indigenous trees, given tastes of spices, and taught about the history of the area with its strong Portuguese influence.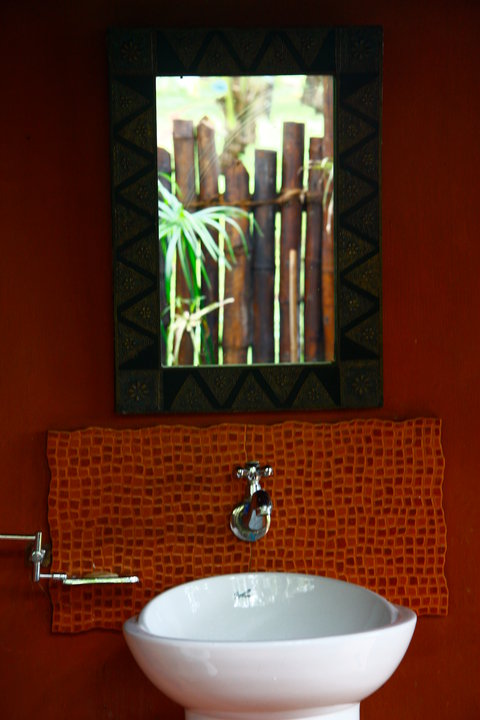 Rooms: All three of the eco-cottages at Olaulim Backyards are beautifully thought out and individually designed using reclaimed building materials. We stayed in the Sun Bird cottage which has comfortable beds and an open air shower heated by solar panels. We also peeked at the other two cottages, the Horn Bill and the Golden Oriole, and they were both lovely with fantastic views of the coconut groves, paddy fields, and swimming pool.
Food: The food and drinks are outstanding! Breakfast features tropical fruits such as pomelos, bananas, and coconuts fresh from the garden. For lunch and dinner, the traditional Goan cuisine is cooked on a wood-fire using seasonal vegetables from the local market as well as fresh fish and prawns straight from the lake. FAB-U-LOUS!!



Vibe: Chilled, chilled, chilled. Our stay was so relaxing that four days felt like two weeks. This is truly a special place run by a special family.
Keep in Mind: Olaulim Backyards has kayaks, canoes, and bicycles for guests to borrow.
Price Range: 2500-4000 Rs (more or less US$50-$90)
# of Rooms: 3
Kid-Friendly: yes
Make an Inquiry/Book a Room at:

As always, if you've stayed at any extraordinary independently owned accommodations for budget-minded travelers, please nominate them today on Darn Good Digs!
Comments
Write a comment