A Phenomenal Boutique Bed and Breakfast Near the San Jose Costa Rica Airport
When we finally make it to Costa Rica, we definitely know one place we're going to stay for sure – at Casa Bella Rita. We only hear wonderful things about this bed and breakfast just outside of San Jose, and minutes from the international airport. It certainly doesn't hurt that they have earned 296 five star reviews on Trip Advisor to date. Here is our review, based on a nomination from Mary in Des Moines, Iowa:
What makes the Casa Bella Rita so Darn Good? Centrally located in Costa Rica's San Jose province, Casa Bella Rita is a beautiful bed & breakfast with views overlooking a magnificent canyon. Steve and Rita, the owners, are amazing, and the accommodations and staff exceeded our expectations day after day.

Location: The B & B is located in Santa Ana, a suburb of San Jose, in Costa Rica's Central Valley, just twenty minutes to both downtown and the airport. Many popular restaurants and shops are nearby, and many major sites were just a day trip away, including the Turu Ba Ri rainforest canopy tour and the Poas Volcano National Park.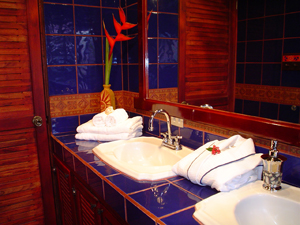 Rooms:
The six rooms are all uniquely decorated with local art. We stayed in the spacious Heliconia Bedroom, located in a separate cabina off the main courtyard. Our room was spotless, the bed and bedding was luxurious and comfortable, and the honor bar was always well stocked with drinks and yummy snacks. The daily fresh flowers were an added bonus.
Food:
For breakfast, Steve serves a huge fruit bowl, a gourmet entrée, coffee, and juice on the amazing patio overlooking the canyon. I promise you will never leave the breakfast table hungry! If you do not feel like going out to eat, Steve and Rita will provide dinner for a small fee if they are cooking for themselves.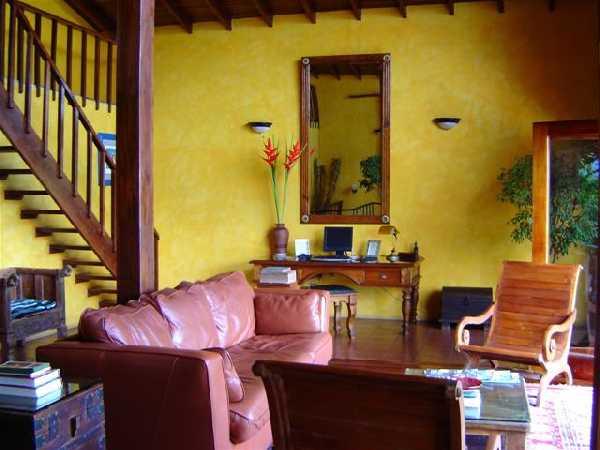 Vibe:
Casa Bella Rita
has a very relaxed vibe, and Steve and Rita made us feel right at home. Both are knowledgeable on everything Costa Rica, and they work hard to make sure your experience is nothing less than excellent.
Things to Keep in Mind:
If you'd like help planning any part of your trip, Rita is the person to see. She has done her research on what tour companies and private drivers are the best, and has up to date information on trip descriptions, prices, and modes of transportation. Also, keep in mind that airport pickup OR drop off are included in the price, just one of the little extras that makes this place so great!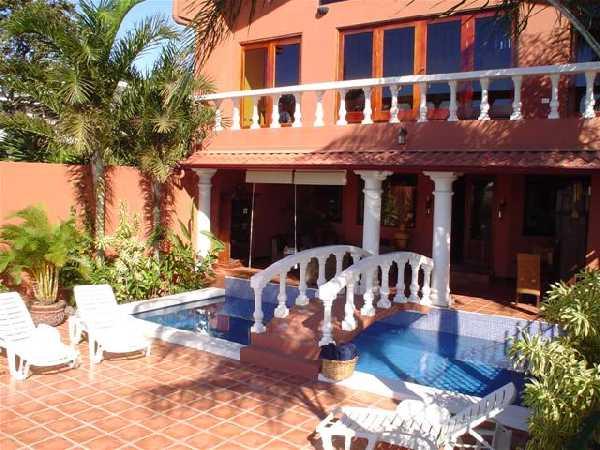 Price Range:
US$99-$139
# of Rooms:
6
Kid-Friendly:
yes
Make an Inquiry/Book a Room at:

As always, if you've stayed at any extraordinary independently owned accommodations for budget-minded travelers, please
nominate them today
on Darn Good Digs!
Comments
Write a comment