New Smyrna Beach B & B – Not Too Far From Kennedy Space Center + Disney World
Last winter when we visited Walt Disney World and the Kennedy Space Center with our four-year old boy, we were looking for a quiet, friendly place to spend a couple of days nearby as a brief escape from the craziness of the Orlando-area theme parks. After researching a 100 mile swath of central Florida's Atlantic coast looking for the "perfect" spot, we stumbled upon the Longboard Inn in New Smyrna Beach. Since anonymity is always our policy, we couldn't let the owners know that we're from Darn Good Digs, but we did have to use a little sweet-talking in order to get past their no kids policy. Here's our Darn Good Digs review of the Longboard Inn:

What makes the Longboard Inn so Darn Good?
This historic Craftsman Style bungalow has been lovingly restored by its friendly owners, John and Dee, with a surf theme and an eye for detail. Our room was fun and inviting and we enjoyed the delicious home-made breakfast served in the Inn's colorful dining room.
Location:
New Smyrna Beach
is an old-Florida style beach town on the state's northeast coast less than ninety minutes from Orlando. The Inn is within walking distance to historic Canal Street with a few antique shops and restaurants, but the real action is a five minute drive across the bridge to Flagler Avenue and the beach. Filled with ice cream shops, swimwear boutiques, and eateries, Flagler Avenue is an excellent place to stroll after a day of surfing or relaxing in the sun.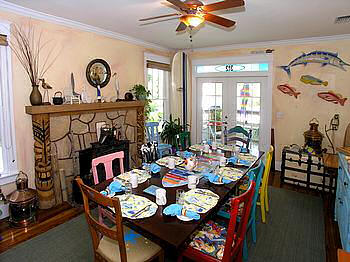 Rooms:
Longboard Inn has eight lovely themed rooms and suites, each distinctly decorated with original fabric paintings, ceramics, and stained glass by local artists. The Sky Blue room, where we stayed, has cheerful blue walls, an enormous bathroom with soft towels, and French doors opening to the Inn's impressive wrap-around porch. We dug the colorful bedspread and whimsical pillows.
Food:
Breakfast is a real treat at the Longboard Inn. Ours started off with a selection of freshly baked breads, including pecan cherry, wild berry, and gingerbread, and ended with fluffy blueberry flapjacks draped in an apple brandy compote. For dinner, we want to give a shout out to Maloney's Oyster Bar a few blocks away where we enjoyed an evening of steam kettle cooking, good beer, and live music.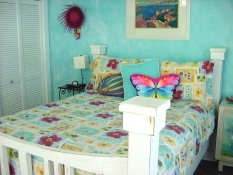 Vibe:
The Inn is laid back and mellow. John spent a good deal of time giving us the low-down on New Smyrna Beach, things to do, and places to eat. Even though the Inn usually has a no child policy, John welcomed our four year old off-season and was super-friendly to him.
Keep in Mind:
While the Inn is not on the beach, it is in a historic residential neighborhood and makes for a great base for exploring Florida's northeast coast.
Price Range:
US$99-$150 (breakfast included)
# of Rooms:
8
Kid-Friendly:
no (or not really)
Make an Inquiry/Book a Room at:

As always, if you've stayed at any extraordinary independently owned accommodations for budget-minded travelers, please
nominate them today
!
Write a comment