Prisons, Banks, and Rice Barns – Stay Somewhere Original, starting at US$20/night
Do you ever read those glossy travel magazines and think to yourself, 'Oh, how I'd love to stay in a fabulous ice castle or undersea lodge – if only I had a gazillion dollars?' Sometimes it's fun to live vicariously through sleek photos, but we at Darn Good Digs have put together a list of intriguing hotels and hostels that are priced right for budget-minded travelers.   What makes these digs so special is not just that they are housed in unusual spots, but also that they are so thoughtfully designed and welcoming to guests.
Spend the night in prison, and then wake up to go sight-seeing: FadedGray from Austin, Texas tells us, "The Hostel Celica is a friendly, colorful converted prison that offers clean and simple cells for its guests to lay their head. Parking is included too.  The Hostel Celica is in Slovenia's capital city of Ljubljana and within walking distance to most of the city.  The rooms are small, former prison cells and still have bars on the windows and second door. The property includes an outdoor patio/small yard and dining area."
Toss and turn on a 19th century sailing ship: Mark from Travel Wonders writes, "Af Chapman is a hostel with a difference. You can stay on a 19th century rigged sailing ship close to both Gamla Stan (Stockholm's old area) and the Royal Palace."
Sleep in a bank, don't break the bank: Sarah Christenson from The Urban Rebellion writes, "The Ramsdell Inn is a lovely, converted bank building in Manistee's historic downtown. My husband and I were intrigued by the old woodwork, polished marble lobby, and hospitality. There is a tiny gift shop in the old brass vault, and long, elegant corridors to wander, complete with brass radiators and dark woodwork. Each room has its own decor theme, but all are comfortably shabby chic. Our room had ornate stonework right outside our window and a lovely view of the Manistee River. The Inn's lobby is utterly gorgeous, and even has an area where the corporation of old used to hold their meetings – complete with an ancient letter of recommendation for an employee and some photos of the staff! When we left, I honestly had to shake off the feeling that I was stuck in the 1920s!"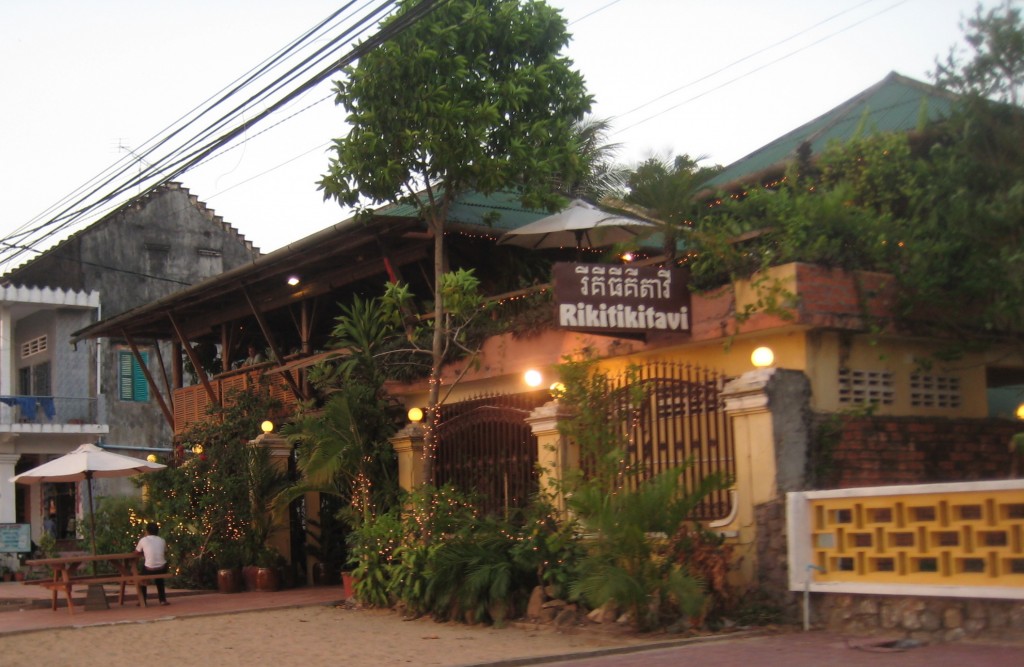 Rikitikitavi in Kampot, Cambodia is in a renovated rice barn (used with permission from Cary Lehman)
Shack up in a Cambodian rice barn: Andrea from Queensland, Australia, writes, "Situated in a renovated wooden-framed rice barn, Rikitikitavi has well appointed rooms decorated with Khmer silks and pillows, rattan furniture, and local art. The beds are comfy and the showers are hot. But what makes Rikitikitavi so good is the service, which is simply the best we have ever come across in our travels through Southeast Asia! With their welcoming rooms, delicious food, and helpful suggestions for what to do around town, Denise, Dom, and their staff ensure that their guests are well taken care of throughout their stay. Staying at Rikitikitavi is like visiting old friends, and this is one reason the hotel is so special.
Lie down in a Monastery: Lisa Lubin from LLWorldTour, writes that the "Domus Maria, a former monastery turned hotel, is no dark, eerie place. It's bright, clean, and peaceful right in the heart of Vilnius's Old City.  The top floor rooms have great charming roof lines. The rooms are carpeted and painted in cheerful yellow with modern, clean-lined furnishings. There are TVs and internet cables in each room.  The walls are solid and the carpeted, bright hallways are super wide. I am staying here now and it's super quiet…I haven't heard another soul!"
Have you stayed anywhere original lately that you'd like to recommend as one of the best hotels for budget-minded travelers?  If yes, please visit our Nomination Page and let us know!
Comments
Write a comment