What Just Might Be the Best Bed and Breakfast in the World
Vento di Rose is a true labor of love. The owners, Emanuela and Emidio, are some of the kindest and most generous people we have ever met. Their home and bed and breakfast is a beautifully restored Italian country house with views of medieval hilltop towns in every direction. And as if this weren't enough, Emanuela prepares an incredible, delectable breakfast for all her lucky guests.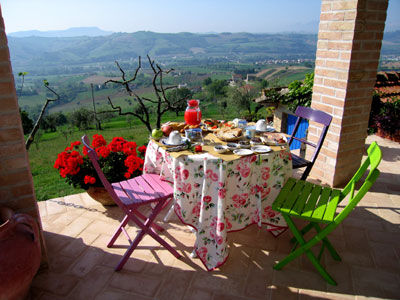 Vento di Rose is located near the small hilltop town of Monterubbiano in the Marches province, just east of Umbria. Within a short drive, you can sun yourself on an Adriatic beach, hike the great Sibillini Mountains, or explore any one of a number of lovely hilltop towns. The Marches is a remarkably beautiful part of Italy and well worth the trip.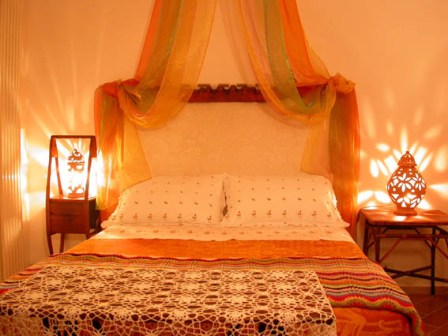 Vento di Rose has three lovely rooms. We stayed in the orange hued Crepuscolo (a.k.a. sunset) room, which was large and delightful. Emanuela and Emidio have scattered chairs and hammocks throughout their gorgeous garden property so guests have plenty of choices when they just want to relax and let the Italian countryside do its magic. The B & B also has a downstairs kitchen available for guests to use.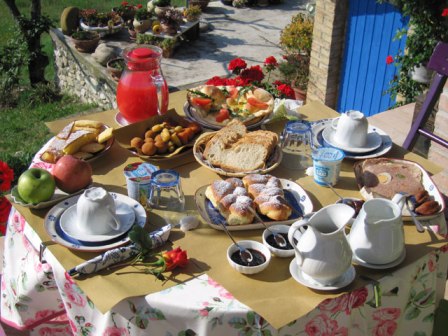 You don't know what breakfast is until you've stayed at Vento di Rose. Emanuela puts out a spread like you would not believe, using mostly local ingredients and including many regional specialties. Just a few of her delicacies include rose petal cake, frittatas with wild asparagus, crostini smothered in truffle spread, and cucumber slices coated with parmigiano and walnuts. If you can't eat everything, don't worry! Emanuela gives you tin foil so you can wrap it up to enjoy for lunch.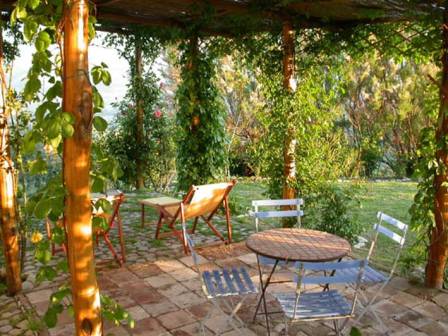 Emanuela and Emidio were extraordinarily warm and welcoming to us and our two year old. One evening, they invited us to join a toast when their friends came over to celebrate their engagement, and the next day Emidio schooled our fascinated little boy on the art of gardening, even giving him a little shovel to join in. Emanuela and Emidio truly made us feel as if we were part of the family, and a much loved part of the family at that!
Vento di Rose is a secret gem and should not be missed.  It just might be the best bed and breakfast in the world!
Price Range: 80-90 Euros
# of Rooms: 3
Kid-Friendly: yes
Make an Inquiry/Book a Room at:

Comments
Write a comment